2010 Laser Truck Rally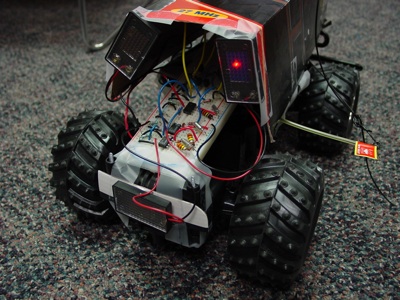 Welcome to the offical site of the BYU Department of Electrical and Computer Engineering 2010 Laser Truck Rally!
Congratulations to our Winnners!
First Place: Team #8, Bryan Bryce and Paul Bartholemew
Second Place: Team #10, Patrick Getz and Kevin Moon

Judges' Choice: Team #4, Matt Manwaring, Jaehee Park, Brian Swenson

Honorable Mention: Team #9, Spencer Chadderdon, Danny Savory, Bikash Shrestha
Honorable Mention: Team #3, Bryan Blankenagel, Josh Jensen, Micah Jenkins
Important Information
Register your team in the Department Office, 459 Clyde Building. As of 10 AM on 1/26/10, all ten team slots were filled. However, if you are still interested, you can sign up your team for a back-up slot and if any teams drop out before receiving their car, you can take the slot.
You can now pick up a truck for your team in the department office, 459 CB. Good luck building!
Competition Date: Thursday, February 18, 2009 during Engineering Week
Rules Committee Rulings
Rules Committee: Brian Mazzeo, Neal Bangerter, Dick Selfridge, Jim Archibald, Aaron Hawkins
Update: February 12, 2010
Here is the course that we will run on February 18: Laser Truck Course. This supersedes any previous information as stated in the original rules document.
Update: February 9, 2010
A clarification needs to be made about controlling the vehicle. All communication with the moving vehicle needs to be via the laser signal. You and your partner will stand at opposite ends of the course and shine your lasers at the vehicle. So, you cannot shine your laser at a stationary controller which then communicates with the vehicle via RF.
Update: February 3, 2010
The timing of the competition may be changed so there are heats in the morning and the afternoon. Likewise, there may be some modification of the course for the Garden Court area of the Wilkinson Center. We will update as we are informed of the final arrangements.
Update: February 3, 2010
The ECEn Department Office, 459 CB, has laser pointers that you can check out so you can test your light-sensitive devices. These laser pointers must be returned, but do not count towards your $25 limit.
Update: February 1, 2010
Digital controllers such as PIC microcontroler chips are permitted. We note that they are certainly not necessary to build a successful car but they may be useful. We remind you that all costs must be within the $25 overall limit. If your solution requires parts purchased outside of the ECEn shop, retain all receipts and provide a list of materials and their costs with your submission.
Update: January 25, 2010
Eligibiity Criteria: Undergraduates and graduate students currently enrolled full-time at BYU (Any Major!).
Signing up: You need to sign up in groups of 2-3. We will not combine individuals into groups.