An SEM image that shows the chlorine present in an ash deposit
The high chlorine and alkali content of some biomass fuels raise concerns regarding corrosion. The greatest concern focuses on high-temperature corrosion of superheater tubes induced by chlorine on the surface.
The experiments in the MFC investigated the chlorine concentration in the ash deposits and its dependence on operating conditions. It was found that the amount of chlorine in the deposit decreased sharply with increasing sulfur content. The relationship between chlorinated and sulfated alkali provides a useful guideline for preventing chlorine deposition on surfaces, which in turn would help decrease corrosion. It is a function of total fuel chlorine content, available alkali content, and total sulfur content.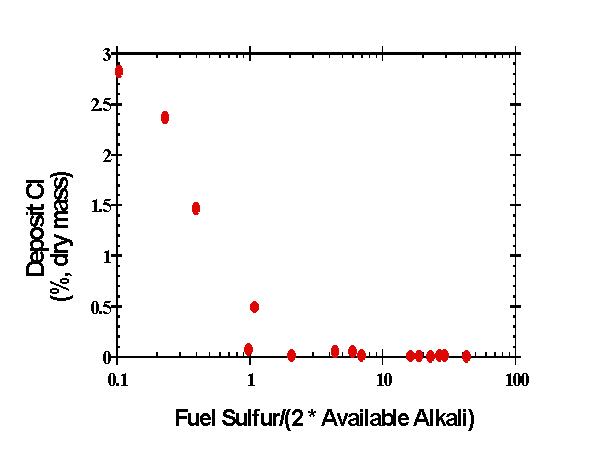 This investigation demonstrates that the potential advantages of biomass-coal cofiring can be achieved without risk to the boiler if fuel type and boiler design and operation conditions are carefully selected. The most benign fuels are high-quality woods, with increasingly careful attention to boiler operation and fuel selection required as fuel properties move toward those typical of high-alkali, high-chlorine, high-ash, and high-nitrogen forms of biomass.