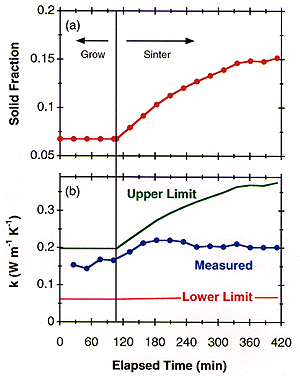 The top graph shows the portion of the sample (a blend of Illinois No. 6 coal and wheat straw) that is is in the solid phase, as the sample undergoes sintering. The lower graph shows the thermal conductivity of the sample as sintering occurs. Notice that the thermal conductivity increases, then upon subsequent sintering levels off at a constant value.
SINTERING
The CRF has developed a technique to make in situ, time resolved measurements of the effective thermal conductivity of ash deposits formed under conditions that closely replicate those found in a commercial boiler.
Experiments are performed to determine the thermal conductivity of highly porous, unsintered deposits, and then to examine the influence of sintering on these deposits. The initial stages of deposit sintering and densification is accompanied by a substantial increase in the deposit's thermal conductivity; the subsequent sintering continues to densify the deposit, but has little effect on thermal conductivity.