In Memory of Harvey Fletcher
This page is dedicated to the memory of Harvey Fletcher. It contains links to references to Harvey Fletcher on the web, along with photos and other material. If you would like to contribute to this page, please contact me at the address below.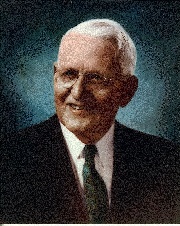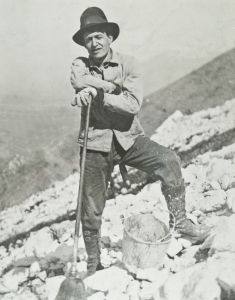 Harvey Fletcher photo (~1975) Harvey Fletcher on Y (~1912)


Harvey Fletcher was a prominent physicist, reknowned as the Father of stereophonic sound, credited with inventing the hearing aid and the first audiometer, Director of Research at Bell Laboratories, and Founding Dean of the College of Engineering at Brigham Young University. He was the graduate student whose dissertation research was the oil drop experiment to measure the charge on an electron, under the direction of Robert Millikan. His honary positions included President of the Acoustical Society of America and President of the American Physical Society. In addition, he was a faithful father, a devout member of the Church of Jesus Christ of Latter-Day Saints, a dedicated gardener, and a fishing enthusiast.
He was born in Provo, Utah, on September 11, 1884. His first wife (Lorena Chipman) was American Mother of the Year in 1965. She passed away in 1967. Harvey and Lorena had 7 children (Phyllis, Steve, Charles, James, Robert, Harvey Junior, and Paul).
In his later years, Harvey married Lorena's sister, Fern Chipman Eyring. Fern's husband (Carl Eyring) passed away as a young scientist, and Harvey and Fern were married for 12 years until Harvey's death in 1981.
Other links:
Autobiography of Harvey Fletcher, BYU Library Special Collections (1968).
A Tribute to Harvey Fletcher (found in Appendix A of Autobiography of Harvey Fletcher, published for his descendants, 1968).
"Good and Great": A Biography of Harvey Fletcher, Honors Thesis by Michael F. Perry (grandson), Department of History, Brigham Young University (August, 2006). Available in Special Collections, BYU Library.
"Science and Religion," BYU Devotional, February, 1960 (audio only)
Speech made by Harvey Fletcher to the College of Engineering at Brigham Young University, September 6, 1979 (audio only). Introduction by Professor Jens J. Jonsson of the BYU Electrical Engineering Department. Narrated and guided by Harvey J. Fletcher.
Acoustical Society of America Meeting (1995) (A collection of tributes to Harvey Fletcher).
Jont B. Allen's home page (Jont is a friend associated with AT&T )
Video of Harvey Fletcher being interviewed by Bruce Bogert at Bell Labs, circa 1963).
Preface to "Speech and Hearing in Communication," book by Harvey Fletcher, ASA Edition edited by Jon Allen
Originally published in 1953, republished in 1995. Order by clicking here.
Sigma Pi Sigma Honarary Members (American Institute of Physics)
History of the BYU College of Engineering by L. D. Smoot
History of the BYU College of Engineering (current)
Short paragraph on accomplishments (Utah Centennial)
Chapter in Biographical Memoirs, by Stephen H. Fletcher
Mentioned in Review of Stereo Microphone Techniques
"My work with Millikan on the oil-drop experiment," by Harvey Fletcher, printed in Physics Today (June, 1982).
BYU Video 2011: The Story of Y Mountain
"Harvey and Howard: Lessons from Two Grandfathers," Tom Fletcher Devotional at BYU (Feb 2012).
Leopold Stokowski, Dr. Harvey Fletcher, and the Bell Laboratories Experimental Recordings
"Remembering the Oil Drop Experiment," in Physics Today, by Michael F. Perry (May, 2007).
Links for posthumous Technical Grammy Award to Harvey Fletcher in 2016:
Grammy.com
sltrib.com
ksl.com
byunews
"Harvey Fletcher Grammy Award," interview with Maureen Meyer Fletcher by Julie Rose on BYU Radio (February 16, 2016) (25 minutes).
Page maintained by Tom Fletcher (tom_fletcher@byu.edu )